21.
may
Apple Sold an Estimated 600,000 HomePod Speakers During the First Quarter of 2018
Apple sold an estimated 600,000 HomePod speakers during the first quarter of 2018, according to new estimates shared this morning by Strategy Analytics.
Amazon shipped an estimated 4 million Echo smart speakers during the quarter, for a 43.6 percent share of the market, while Google shipped an estimated 2.4 million Google Home speakers for 26.5 percent market share. Alibaba also came in ahead of Apple with 700,000 shipments, while Xiaomi trailed behind with 200,000.
Apple has a long way to go to catch up to Google and Amazon, both of whom have seen an enormous growth in shipments over the course of the past year. Amazon's shipments increased by two million compared to Q1 2017, while Google's increased by 2.1 million.

Amazon's market share has fallen year over year due to strong sales of Google speakers and new entrants to the market like Apple, Alibaba, and Xiaomi, but Amazon continues to be the number one smart speaker vendor in the world by far.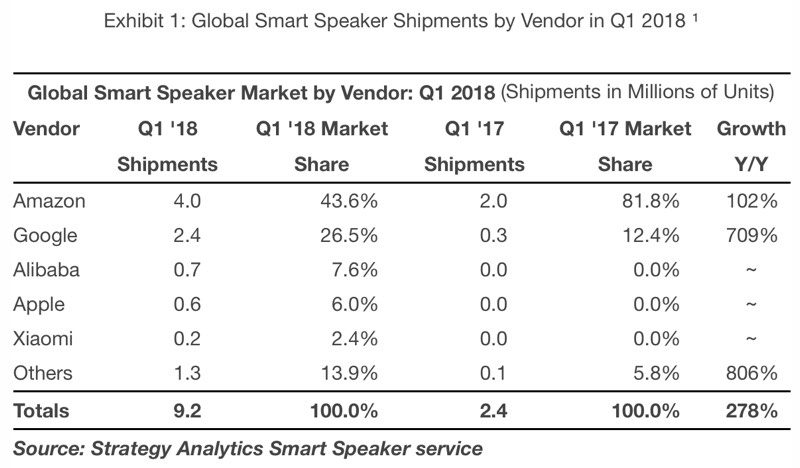 David Watkins, Director at Strategy Analytics commented that "Amazon and Google accounted for a dominant 70% share of global smart speaker shipments in Q1 2018 although their combined share has fallen from 84% in Q4 2017 and 94% in the year ago quarter. This is partly as a result of strong growth in the Chinese market for smart speakers where both Amazon and Google are currently absent. Alibaba and Xiaomi are leading the way in China and their strength in the domestic market alone is proving enough to propel them into the global top five."
In total, across all vendors, there were an estimated 9.2 million smart speaker units shipped during the first quarter of 2018. Apple is, at the current time, the fourth largest smart speaker brand worldwide with the HomePod, but its meager sales are not yet impacting major players Google and Amazon.
Read more in the full article: MacRumors
Related articles: